If you find it difficult to track your expenses and you worry as to where all your money has gone at the end of each month, then you can try these five must have money management apps that can help you to manage your money. These applications will help to you easily monitor your expenditures and income and keep a close watch on the money spent each month.
It is not only necessary for us to keep records of all incomes and expenditures in this age of ever growing expenses, but also to stay on top of all assets that will assist in better personal finance management. However we all struggle in expense and money management due to lack of time.
This is where your mobile phone can help you greatly to handle your money better. There are many Money Management Applications that can effectively monitor and guide you in better money management for all your income and expenditures and also for your savings and investments. 
[lwptoc]
Why you should use money management apps?
As your Personal Finance Planner, these expense and money management apps can help you to recognize the areas in which your expenditures can be minimized.
At the same time these money manager apps will also make your aware about the best possible avenues for investments which will generate highest returns on your investment.
A number of individuals are utilizing these applications to handle their finances and have found them very helpful. You can check their reviews on these money management apps in India on app google play store.    
The key factor why it is such a difficult task to save money is that we are unable to monitor and ultimately control our expenses in a prudent and easy way.
There are several applications and money management solutions that serve as your personal finance manager and can enable you effectively plan your money management and personal finances. 
Money management apps can help you stay on top of your finances by providing a snapshot of your overall spending, income, and debt which can help you to make informed decisions about where to put your money and how to get your finances back on track. Additionally, many money management apps offer features like bill pay and budgeting tools, which can make it easier to manage your money on a day-to-day basis.
Tracking your expenses and making weekly or monthly budget is always a good money management idea to keep up a proper balance between your earning and spending. Tracking money is advantageous for maintaining a good financial state and preventing excessive expenses.
But manual monitoring of every single penny requires time and effort. We also miss some of the expenditures sometimes, too. If you are struggling with similar monthly budget management problem then there's no need to worry anymore.
5 Best Money Management Apps in India for Android:
There are many money saving apps in India which can help you to successfully track your monthly expenses. There are some best daily expense manager app in India also.
Some of these best expense manager apps in India will help you to track your monthly expenses ranging from food orders, cab bookings, mobile recharges etc. Most of the Indian users have 20 to 30 apps installed in their mobile phones; you should definitely add one of these best money management apps for android and ios to the list.  
We used to talk money in terms of cash and cheque only but with evolution of mobile technology and more specifically digital payment systems, it has become very convenient to make online and offline transaction.
Many mobile expense trackers in India are compatible with these digital payment wallets and integrate your data for proper record keeping. Isn't it cool? Every year we publish an updated list of top money managements apps in India so that individuals can compare the features of these best money management apps and download them directly!
So here is a list of the best money management apps in India. Some of the top budget management apps in India also help you to make mutual fund investments or get you a loan quickly, so apart money management or expense management, some of these best financial planning apps in India also assist in other personal finance activities.    
1) Goodbudget-Budget & Finance App: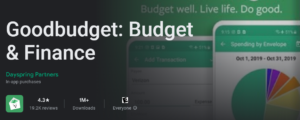 Goodbudget (formerly EEBA, the Easy Envelope Budget Aid) is a money manager and expense tracker app which is suitable for home budget planning. The Goodbudget money management app works on envelope system. 
This personal finance manager app is a proactive budget planner that helps you stay on top of your budget, bills and finances. The personal finance app has been built for easy, real-time tracking of your budget and finances making it one of the best expense tracker app in India.
Googbudget can also sync across various devices like Android, iPhone, and the web to share your budget with your budgeting partners. The app helps to keep everyone on the same page with household finances! Goodbudget is one of the best free expense manager app India.
Key Features offered by Goodbudget money manager and expense tracker app:
1) Data is automatically and securely backed up to Goodbudget's website
2) Split expense transactions
3) Scheduled transactions and Envelope fills
4) Save time with smart payee and category suggestions
5) Easily transfer funds between Envelopes and Accounts
6) Choose budget period to match real-life
7) Analyze spending with Spending by Envelope Report
8) Monitor cashflow with Income vs. Spending Report
9) Download transactions to CSV
10) Clear/reconcile transactions
11) Roll unused funds over to the new month to reward your amazing self-control
12) Plan finances ahead of time to keep budget on track
Latest Reviews for Goodbudget money manager app:
Here some of the reviews posted for Goodbudget personal finance manager app by some of the users:
"This app has been incredibly helpful for my wife and I to stay on the same page with our budget. The only thing I wish it had was home screen widgets for individual budgets" –Dan Wray
"The icon is so cute. i can have many envelopes, fill them up at start of the month, then monitor their usage, just like watching ur data usage. Thanks devs!!"– Maya Kensinger
"I love this app. Makes setting up a budget so much easier & keeping track of your money easier too" – Christina B
If you are looking for an amazing finance manager, a good money tracker, checkbook ledger, or household budget planner? Try the Goodbudget personal finance manager app!
Click here to get Goodbudget App on Android
2) Monefy-Budget Manager and Expense Tracker App: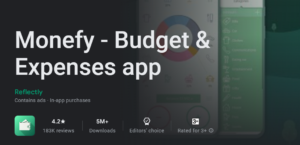 A user can easily use Monefy as financial organizer and finance tracker and it is very simple to use. Each time you buy a coffee or pay any of your bills, or make a regular purchase, you only need to add each expense you have and the app does all the magic for you!
A user just need to add a new record every time he or she makes a purchase. The record adding is done in just one click, so you don't need to fill any other details except the amount that you have spent.
Tracking daily purchases as well as bills or anything else you spend your money on, it has never been so quick and enjoyable with the Monefy money manager app which makes Monefy best expense tracking apps in India. 
Monefy is more than just a money tracker app! It is one of the best money savings apps to help a user with better money management.
Monefy keeps track of user's personal expenses and compare them to the monthly income as well as with the budget planner. Monefy money manager app keeps your monthly budget in optimum condition. So it could also work well as best expense tracker app. 
Monefy personal finance manager app will help you become a budgeting master and so you can start saving money with Monefy now.
Key features offered by Monefy-Budget Manager and Expense Tracker App:
1) Add new records quickly with the intuitive and easy-to-use interface
2) Track in multi-currencies
3) Backup and export personal finance data in one click
4) Stay secure with passcode protection
5) Manage custom or default categories
6) See your spending distribution on an easy-to-read chart, or get detailed information from the records list
7) Save money with budget tracker
8) Safely synchronize using your own Google Drive or Dropbox account
9) Take control of recurring payments
10) Access your spending tracker easily with handy widgets
11) Use multiple accounts
12) Crunch numbers with the built-in calculator
Latest Reviews on Monefy-Budget Manager and Expense Tracker App:
Here some of the reviews posted for Monefy Budget Manager app by some of the users:
"I love this app. I speak as a single millenial, earning a salary, paying rent, managing a few accounts with no intricacy, it's perfect" –Marilyn Arroyo
"Excellent App. Very simple and user friendly ! I have purchased the pro version. Very flexible too and we can make the changes easily to suit our requirements. Many thanks to the developers of this app"–Rajesh Yaji
"I LOVE this app, have been using since 2018 and did not stop since then. Greatly does its function and I recommend to all my friends with trouble related to money!!" –André Shigemori
Click here to get Monefy App on Android
3) Axio-Money Manager App & BNPL App: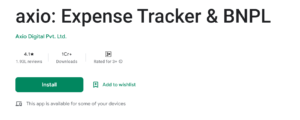 Axio is again one of the best money manager & daily expense tracker apps available today. It helps to automatically and securely track your monthly expenses. It is also widely used as buy now pay later (BNPL) app.
By using Axio app, you can stay within the budget, pay your bills on time and you can also save more each month. Walnut money manager app helps to find out how much you spend on food, shopping, groceries, etc. and how much you are saving month on month basis. 
The Axio app analyses your SMS inbox on phone and tracks valuable information like your expenses, bills and even your travel bookings.
This app also offers another benefit which is an instant line of credit for your shopping, bill payments, travel and any many other purposes. The Axio Money Manager, Axio Pay later and Axio Shop are the best features of this app. 
Axio money manager app also offers instant personal loans where interest rates for personal loans start from as low as 14% and up to 22% per annum for personal loans ranging from 12 to 36 months tenure. 
Key Features Offered by Walnut-Money Manager App & Instant Personal Loan
1) Keep a close track of credit card dues – no more surprises at the end of the billing cycle!
2) Split expenses with friends – The simplest bill split experience!
3) Transfer Money using BHIM UPI – direct bank to bank money transfer, no more money stuck in wallets
4) Find ATMs with Cash near you in real-time
5) All expenses at a GLANCE – Banks Accounts, Credit Cards, Digital Wallets, Sodexo etc.
6) Export your data and generate expense reports (in PDF & CSV format)
7) Check Bank Balances
8) 50+ Indian banks and cards supported
9) Keep track of train, cab, movie, event bookings and more
10) Lookup information on places you visit and share with friends and social networks
11) Report your bank, card or any interesting messages right from within the app
12) Easily search for expenses, tags or notes
Latest Reviews on Axio-Money Manager App & Instant Personal Loan App:
Here some of the reviews posted for Walnut money manager app by some of the users:
"This is a good app for automatically categorizing transactions and get a detailed info on our spends" -sreeram v.s
"Good application as it helps me to track my expenses. It reads the transaction money SMS automatically." -Umang Khanna
"Auto decoding of sms to track the expense. 2. Categories gets auto updated . 3.User interface is very simple and comprehensive. 4. Integrated split bills. 5. Easy to use I would be happy to pay if they monetize this in the futur" -Datta Anvekar 
Click here to get Axio app on Android
4) Expense Manager App: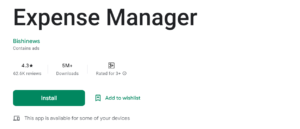 If you are looking for an expense and budget tool. Expense Manager can help you a lot. Expense Manager is simple, intuitive, stable and feature-rich money management app which is designed for  users looking for better personal finance app. If you search for expense manager app India 2020, you will definitely see expense manager on the top of the list. 
Right from tracking your expenses to managing your budgets, everything you need is at your fingertips when you use the expense manager app. So expense manager app also makes its place in the list of best money management apps in India.
Expense manager app by Bishinews is 100% FREE and is one of the best daily expense manager apps in India – It has full features without any hidden charges or in-app purchases.
Key Features offered by Expense Manager:
1) Organizing bills by week, month and year as well as by categories
2) Daily, weekly, monthly, and yearly budget with progress bar
3) Payment alerts
4) Calendar budget forecasting
5) Search by category, subcategory, payee/payer, payment method, status, description, tag, etc.
6) Automatic backup on Dropbox, Google Drive and SD Card
7) Add multiple expense or income records
8) The App comes with Currency converter, Regular calculator, Tip calculator, Loan calculator, Credit card, payoff calculator, Interest calculator, Note, Shopping list
9) PIN protection
10) No registration and internet access are required
11) Split Transaction – Record all items in a single transaction with different category and amount
12) Credit Card and bank SMS message parsing
13) Write, Print, and Email Checks
14) Schedule the payments and recurring payments
Latest Reviews on Expense Manager app:
Here some of the reviews posted for Expense Manager app by some of the users:
"I've had this app for years and it fully addresses my expense recording needs. It has excellent flexibility and options; pictures of receipts, hash tags, personalizing data, reporting and search functions, well written user guide and intuitive menu functions" –Norman Jones
"Is a great application to keep easily keep track of your expenses. I have been using for 5 years already with no problems" –Rodrigo Rotela
"Love this apps, been using it for long time. Hope to have new configuration feature that will allow me to select and group a number of my accounts together for the Calendar summary view" –Winson 
Click here to get Expense Manager app on Android
5) Wallet-Personal Finance & Expense Tracker App: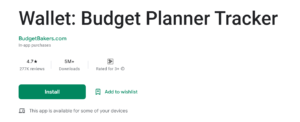 Wallet is another market-leading personal finance manager app which has been built to help you in better money management. The Wallet helps you to plan for the future money management by placing all your personal finance needs in one place.
With Wallet you can track your daily expenses automatically by synchronizing your bank account, you can check weekly reports on your expense, you can plan your shopping expenditure and also share specific features with your loved ones. It is one of the best money manager apps in India for Android. Wallet allows you to manage your money at anywhere and at any time.
With the use of Wallet personal finance app india, you can easily control your expenses and save more using the finance tracker and planner feature provided with this top money management app in India.
Wallet is a money manager and budget planner app that is specifically designed to help you right from the day one of Wallet app download. With the help of continuous insights from Wallet personal finance app, you will be able to control of your personal finances for the long-term which makes the Wallet app the best expense manager app in India for 2020.
Key features offered by Wallet-Personal Finance & Expense Tracker app:
1) Transactions are automatically and securely synced, then smartly categorized, and factored into your budget
2) From paying off debt to buying a car or saving for retirement, this budgeting app offers the flexibility to meet your goals and cleverly react to any changing financial circumstances.
3) Easy-to-understand graphs and financial overviews give you actionable insights about the state of your finances, across accounts, credit and debit cards, debts and cash.
4) Organize bills and keep track of due dates. See upcoming payments and how the payments will impact your cash flow.
5) Selected accounts can be shared with family, friends or colleagues who need to cooperate on a budget. Everyone can contribute from any platform, whether it be Android, iPhone or the Web.
6) Other features include Multiple currency support, Automatic cloud sync, Receipt and warranty tracking, Categories and templates, geo-mapping transactions, hash-tagging, Shopping lists, Exports to CSV/XLS/PDF, debt management, PIN security, Standing orders, notifications, reports and more.
7) You can also learn about different budgeting methods and how other finance gurus have managed their expenses and made the most of their money. 
Latest Reviews on Wallet-Personal Finance & Expense Tracker app:
Here some of the reviews posted for Wallet Personal Finance & Expense Tracker app by some of the users:
"This is absolutely the best financial tracking app I have ever used. I am still on the free plan, but the ability to open multiple accounts and track each and every transaction is mind-blowing" – Kudakwashe Paradzayi
"The reason am giving you guys a 5 star is because I was looking for something and got something even better, I am logging every single transaction in my pocket, this app is damn good" – Moses MacStephen Musasizi
"Extremely functional app and with the correct use will accurately track your finances. I use this for all my financial planning and predicting costs with great effect" – Luke Statton
Click here to get Wallet app on Android
These are some of the best money management apps available today. You should download some of these best personal finance apps in India to check whether it can help you track your expenses and improve your personal finance very month.
Some of these money manager apps also work as budgeting apps in India where you can carry out budgeting activities as well. If you are searching for best expense tracking app India or best money management app android, these apps can suit your requirements. 
Why Chitale CFS Pvt Ltd?
Chitale CFS Pvt Ltd offers wide variety of investment avenues for short as well as long term investment needs. With more than 30+ years of experience, we are one stop solution for a number of financial products like Mutual Funds, Insurance, Bonds, Fixed Deposits etc. We serve our clients with highest standard of transparency and integrity by putting investor's interest first.
You can contact us by calling on +91 8999116127 or email us at [email protected] or [email protected]
Mutual fund investments are subject to market risks. Please read the offer document carefully before investing